Having said that this project was finished, I realized that Kaffie still needs a driver. It's been a while since I did any figure modification - when I told Igor that I wasn't doing any more for Watts' he stumped off muttering darkly, and I hadn't seen him since then, However, from time-to-time I've been getting the feeling that I'm being watched .....
Anyway, when I started on this driver Igor suddenly reappeared - it's as if he knew ...
The starting point for the driver was the Chinese rip-off of a Preiser figure, purchased from eBay ...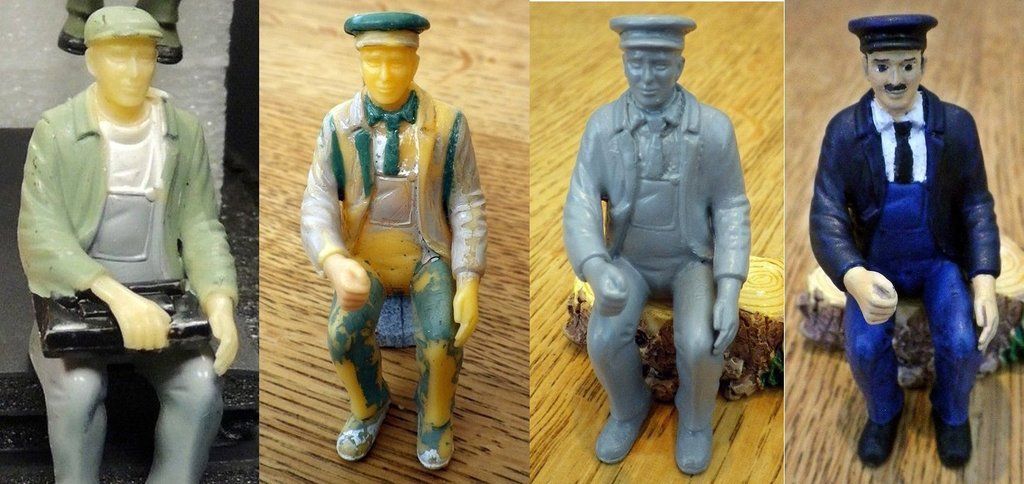 From the left - the figure as bought; the figure with brief case removed - in fact, both arms came off and were slightly repositioned - and a collar and tie added from Green Stuff putty. His hat was filed down and a Green Stuff top added to produce a peaked cap. It looked as if he had a green pancake plopped on top of his head, but the third photo shows that a coat of primer pulls it all together, while the fourth shows the final result after painting. I asked Igor to give me a hand - and that's it, on the driver's right arm.
As ever, I can't do eyes, but it looks OK from normal viewing distance ... with my eyes screwed up ... in a darkened room ...
Now I need a figure for someone to help with the loco maintenance - Igor, a word please ...