As this question keeps turning up, I thought it was time to start a thread to act as a reference as to what is available. I will start the ball rolling with my collection of seated figures and where possible suggest sources, hopefully this can build into a directory that will be useful to all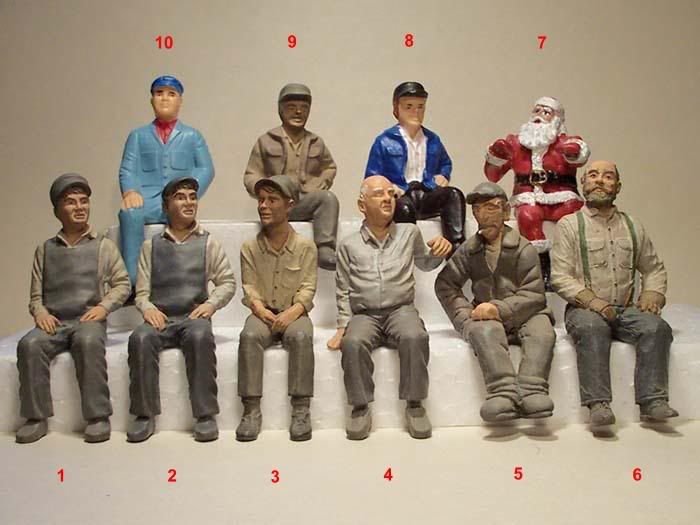 1. The ever popular Fred from SLM @
http://www.slmonline.com
2. Alfred, christened by Emrys, OK it is just a modified version of Fred above, having had his hat attacked with a file to give a less American appearance.
3. Probably the most used currently, Jon from SLM @
http://www.slmonline.com
4. Another SLM figure, this time Phil available from the same source.
5 Hank from Schomberg Scale Models @
http://www.schombergscalemodels.com
6. Clem from the Fine Folks range, available from
http://rgsrrhobbies.com/
7. Santa, how did he get in here
made by Aristocraft Trains, part # ART-60025 available from Walthers and I would think from most Aristocraft dealers, may be seasonal though.
8 & 9. Figure from LGB. #8 as it comes and #9 after a repaint
10. Not sure about this one, I think another LGB figure, but not certain about that. Now confirmed as LGB and used as a driver on their diesel.
Picture updated 13/01/05