Health dept Warning:
If you are obsessed with having lightweight modules, stop reading now (or risk a heart attack).
I have got the river bed in. I found a big bucket of small stones and glued them down with pva. It has added a bit of weight to the layout, but I can still pick it up ok. (lucky all the other foam rocks are light!).
A friend came around later this afternoon, so I put him on the end of the digital camera while I drove, and I have now got this little video of the wagon loading animation: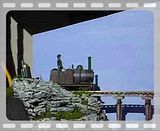 I have put the first layer of 'water' in the river tonight.