The latest issue of Railway Modeller inspired me to have a go at making some wagons out of card. This is probably old hat to you folk over the pond, and I remember a book that I had when I was young (once) in England about making cardboard models, in those days I was too young and unskilled to really tackle any of the projects in the book.
And besides Woolworth's was just up the road and the Airfix/Kitmaster "Pug" tank engine beckoned for 1/6d or something like that.
Anyway back to the task at hand. I wanted to see how far I could get with the minimum of supplies and only use what was laying around. So far I have used:
An empty elastoplast box
An empty tea box
A strip of thin white card stock for computer printing
Some carpenter's glue
X-acto knife
Ruler
Toothpick
Some sandpaper carpet taped to a scrap of plex
Some rubber bands from the kitcken drawer
Plastic parts jar as a former
A pair of Hornby 12mm spoked wheels with the points filed off
An assortment of small spring clamps
Couple of brushfulls of dark brown Tamiya acrylic model paint
Oh, and my rivet making tool that I made years ago.
This is the begining using some card from everyday boxes:
Tea box formed around a pill container laminated with the carpenter's glue: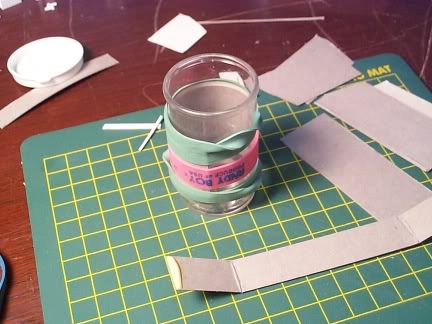 The glued part ready for the next step:
The ends are glued to the formed bottom, and the strips of rivet embossed stiff paper paper glued on: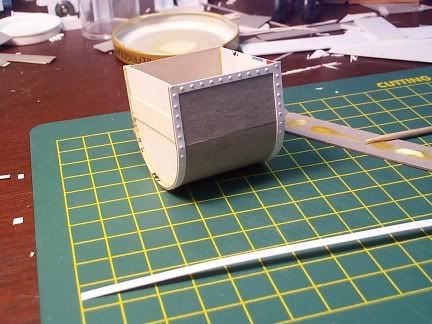 The chassis made from a few layers of the elastoplast box, with the tea box ribs: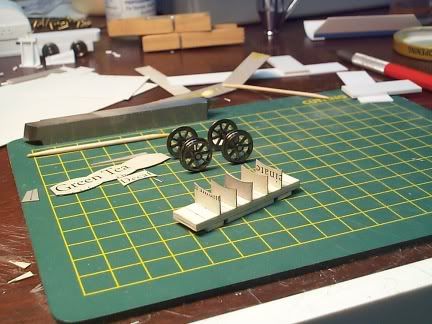 The finished waggon being used at the chalk mine: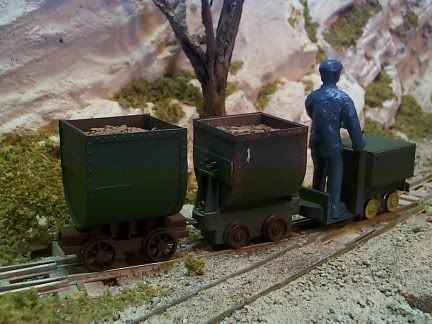 The results so far, this wagon will not be a tipping hopper like the styrene ones and will probably not have wire hook couplings but will form part of a rake of odd wagons built out of card so that I can learn and test the limits of card for myself.