Most people know, the original Moai statues on the Easter Island originally were made in the Kraehwinkel area about 7 or 8 thousand years ago. How they got there is a completely different story.
When Kevin Coster planned to make his Film Rata Pui about 20 years ago, he asked the Kraehwinkle people if they could revive their old trade again. Of course they could, after he was waving with bundles of Dollars.
Here is one of the first statues on its way to Hollywood, guarded by Pinkerton detectives.
Ever since the demand for full seize Moais ceased, but recently more and more people came around, asking for substitutes for their Gartenzwergs ( Gardendwarfs, Leprarcauns). Not a big problem for the local artists.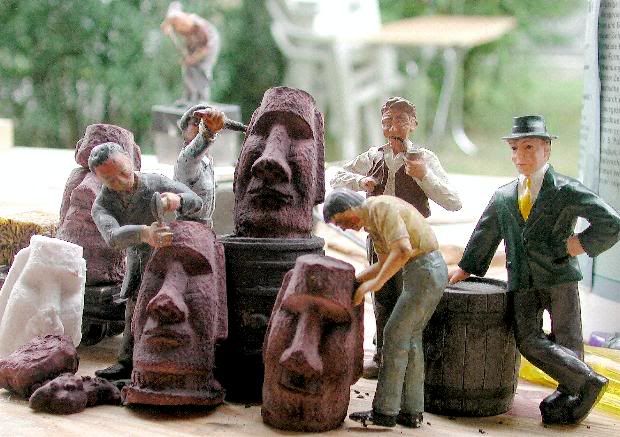 Of course, the new Moais are transported by an 15 inch line from the outbacks of Kraehwinkel County to the civilized world.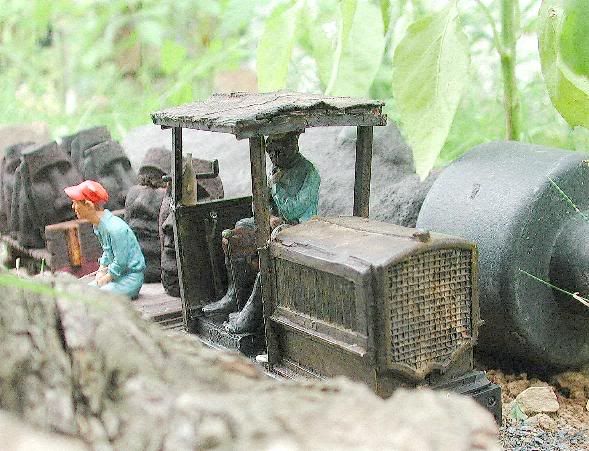 Business is booming. So we hope to substitute the old Diesel loco for something more reliable sooner or later. Maybe a steam loco, so the tourists can take pictures of steam plumes on an autumm morning.
Hae Fun
Juergen