Evening all,
When I decided to build Simplicity in the Round while not completely clear in my own mind what it would represent I did want to use a small critter and appropriate mine tubs .
Therefore I purchased from Mr Bennett a "flea" and some of his mine tubs .... which look like this for the uninitiated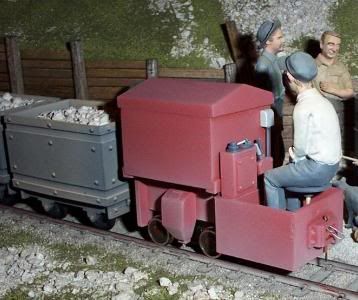 This turned out to be an excellent purchase , both tubs and flea are great little kits flash free and easy to put together ........ so were great to do the testing of the new layout.
Now one of my many faults is that I have an inability to keep to a standard kit, always seem to want to change it and therefore have ended up with huge pile of half completed conversions....... this time I was determined because the layout was the thing.
However, testing completed noticed in the instruction leaflet that came with flea that Steve mentioned that one could add extra detail if one wanted ......... now I am waiting for one or two bits for the layout and I was trying to stay away from 1/12 scale so last weekend thought I would just have a slight fiddle with the flea, maybe a few lifting rings bit of extra wiring etc. I had actually put it together using the PVA method so a quick soak and I had a pile of bits again.
So what extra detail would I add ...... 10 minutes on the web and hell I found this (sorry copyright issues so you need to follow the link)
http://www.railpictures.net/viewphoto.php?id=292161
Its great isn't - it will be built in1/12 one day
So the idea of some light detail changes went out the window .... what we have is my usual mishmash its certainly not a scale copy but hope it gets some of the originals charm.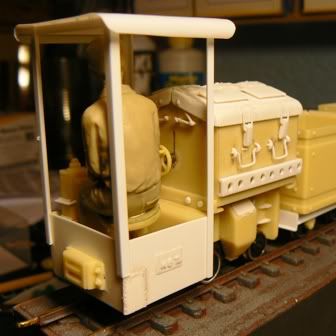 Similar angle showing the the original model and what I have done to ......sorry Steve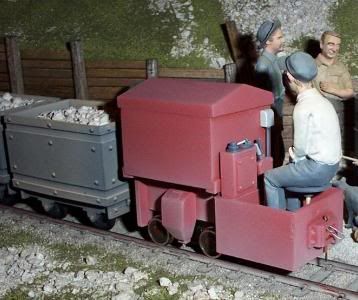 These are fairly lousy pictures but as I am keen to get some paint on this soon thought i post and get feedback comments from you guys so I can change things while I can - at the moment a lot is held together with blue tack and a lot of wiring ,etc is still to be added ........ and of course the bell.
So if you have views fire away - I can fix, paint and get back to the layout.