G'day All
The story of the ACME factory.
The Acme company started as a small backyard business by the brothers Warner but as Wile E Coyote. their first customer, purchased more "things", desperately trying to catch that pesky roadrunner, the Acme company prospered and expanded to larger premises and that is how it arrived at its present size and location.
Because of the large work load and the diverse range of goods that were required by Wile, but mainly because they wanted their very own little railway, the managers decided to install a 15" gauge railway to bring in raw materials, move them around the factory and ship out the finished products.
To get workers from the outlaying areas to the factory they had purchased a couple of coach kits from Fcalv and after putting them together they decided that they really needed to sit on track a little wider than 15" so they mounted them on 22" bogies. This meant that the layout will be dual gauge with narrow gauge for the goods and broad gauge for the passengers.
Well that's my story and I intend to stick to it.
--------------------------------------oOo-------------------------------
I wanted to have the effect of the buildings towering over the trains so I intend to have at least 3 stories on part of the building and a really tall chimney at the other end of the layout to act as some sort of a visual balance.
The layout is the same size as my "Ladysmith Sidings", 45" x 17", which means that I can use the same base........one less thing to make !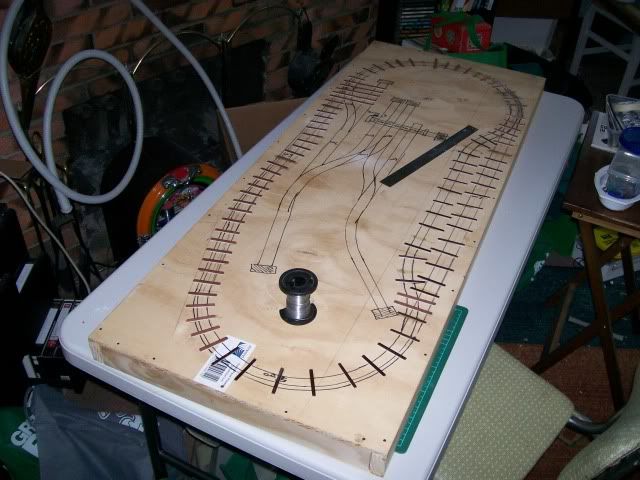 Because of the tight curves and the dual gauge track all the track will have to be hand laid. I am not very happy with this as it involves a couple of points which have no moving bits but which will separate the 16.5mm and 22mm tracks in the fiddle yard.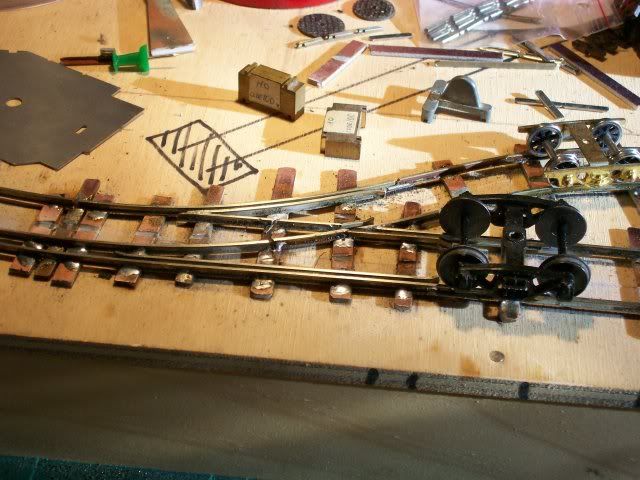 And also a single point out the front which will switch the narrow gauge but not the broad gauge.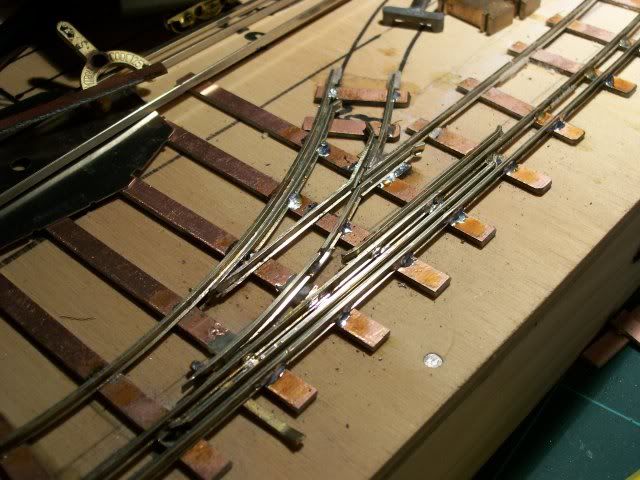 Although the outer loop is sort of set in stone (ie I have already layed most of that track ) the shunting area is still very much in a state of flux. Not sure if it is to be an "Inglenook" or "timesaver" style yet.
The "Timesaver" style (option 1) has a greater number of points and allows the loco to change ends on the train which allows for greater flexability.
The "Inglenook" style (option 2) has fewer points but means that the loco can only be at the right hand end of the train.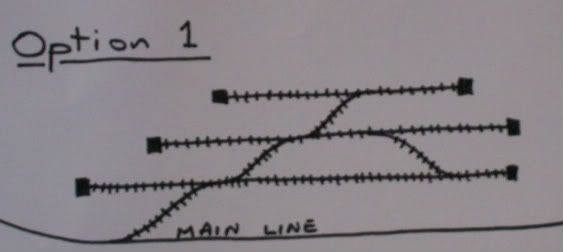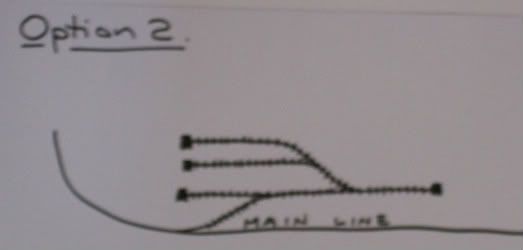 Maybe some input from you guys might help ?
Cheers