Now that Diema-like is finished I need a driver for it. I had hoped to buy the Schleich 4x4 driver figure and do an upper-body swap with the ELC boy, but I'm told Schleich don't produce it any more - anyone know of a source?
Anyway, I decided to adapt another Schleich figure and, as I promised Chris last week, this is what happened.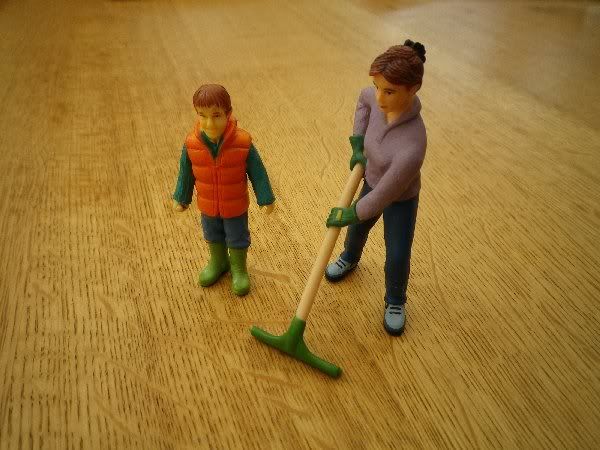 The ELC and Schleich figures that are the starting point - an unlikely coupling. The left hand of the Schleich just plugs into the arm and the rake just comes away with it. First move is to make the Schleich 'sit'.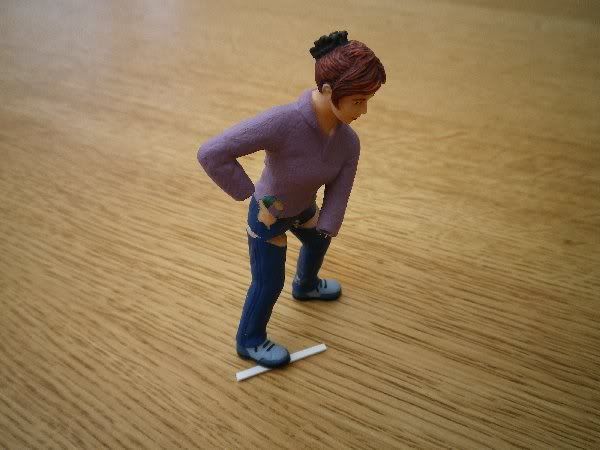 I'm keeping the upper body attached for the moment to give me something to hold onto. The right hand has been cut off carefully for re-use, and cuts made back and front of the upper legs - a slice part-way through the rear and a V-cut in front. The cuts are slightly off-set vertically to leave a hinge for bending.
The right leg is bent so that the thigh is horizontal and glued with CA in the V. The pins are there to keep the bend in place while the CA sets. Because of the stance of the standing figure the left leg needs to be repositioned, so it's been cut off and a piece of florists wire fixed into a hole drilled at an angle to the line of the thigh.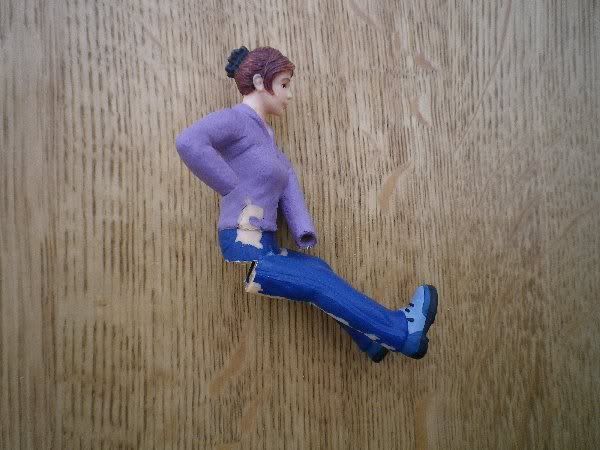 The left leg has been fixed in position with the florists wire and CA. The leg has been moved forward slightly and swung in towards the right one, as well as being positioned parallel to it.
When the CA is set the profile of the buttocks has been built up with Green Stuff, filling all the gaps front and rear.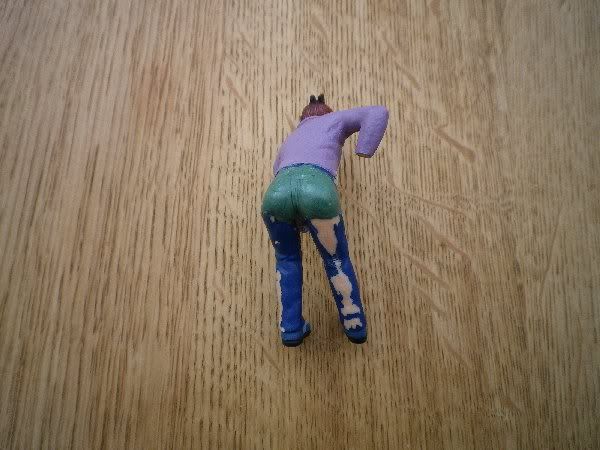 Another view of the re-profiled buttocks. Some of the material on the rear of the right thigh has been removed to get a good 'sit'.
The ELC figure has been dismembered, but it hasn't wiped that cheesy grin off his face. I'm waiting to decide whether to use the wellies or leave the Schleich shoes in place.
Next step will be bending the knees.