Sometimes mad ideas work out, other tmes they dont
Messing around with a reject seat from the recent riding car experiments, I had the weird thought of mounting one on the cab of an O-9 Avalon Line loco and sitting a G scale figure on it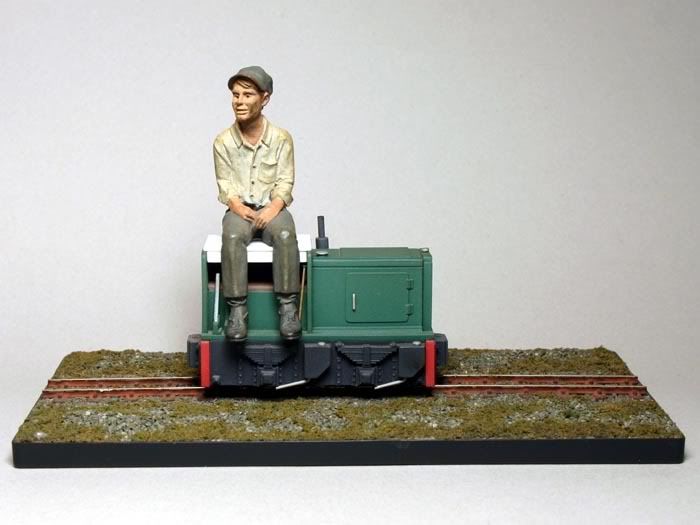 For a start, Jon is sat a bit too upright to be perched on top like this which puts the centre of gravity a bit high and to make matters worse, this loco is mounted on an old Farish Class 08, which waddles along the track at the best of times. Having it test running around my little pizza test track, I'm surprised it didnt fall over
I thought that there was some potential in the idea though, so grabbed some bits out of the rejects box and set to work (well maybe that should be play
)
After a bit of messing about with different parts, this is what it came out like, alongside the original idea.
Actually, it's probably better showing them without the figures in the way, so a direct comparison to the original O scale loco can be made.
Working from the bottom up, the first thing to replace was the chassis. A Kato tram chassis was going to be a big improvement over the Farish, both for running and stability. So the underframe from Tiny got put to use.
However, I wanted to use N Gauge couplings on this, so the buffer beam had to be modified, to allow them to be retained on the chassis. A simple enough task to make a suitable cutout.
Next up was raising the seat, but not as far as the first attempt. In the end, I only raised it by 2mm and added some rod at the rear to represent a hinge and make it look like a lift up inspection panel or a toolbox. Not that it can really be sen once the figure is on it.
The only other modifications to the original kit, was a larger filler cap on top of the bonnet and fitting some T handles on the side panels.
I still need to try and fit some controls in the rather cramped cab area, if I can
Will probably be a brake for him to rest his right hand on, plus a handheld controller to his left and maybe a gauge and a few buttons.
A really quick and easy conversion, once I figured out what to do and it looks pretty cute running around the test track with a couple of wagons
Here are a couple more views:
I have already modified another chassis, just need to scratch around for another body to modify now