I've had some thoughts on the couplers recently. I've tested a possible solution, and, hey, it did work quite well! So it's probably not precipitate to show it here:
The couplers would have to cope with two nasty s-curves of 15 cm radius without any intermediate straight section (->
http://forum.gn15.info/viewtopic.php?t=1984
). The offset of two vehicles with a wheel base of 10 mm, and a loa of 60 mm in that s-curve calculates to 5.4 mm.The loop of the coupler has to be at least twice as wide on the inside. Actually, I've chosen 12 mm, to be on the safe side.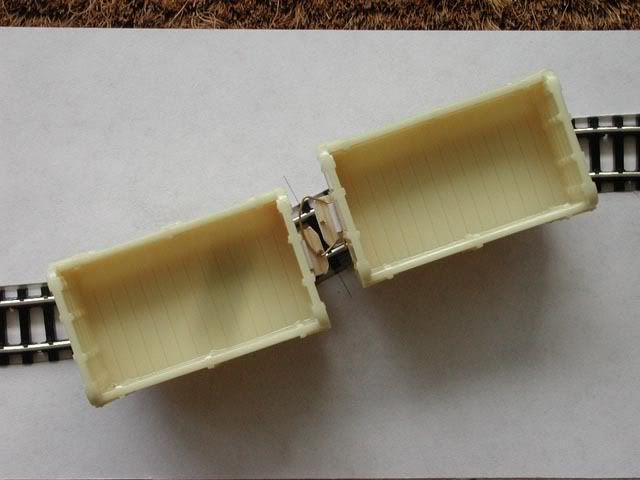 The couplers are semi-automatic, i.e., coupling takes place automatically, but uncoupling has to be done manually.
I should note that automatic coupling in the middle of the s-curve will still be quite impossible, because the wagons have some considerable play within the tracks, and pushed they will turn to the curve's outside, naturally. Currently I tend to live with this little inconvenience instead of making an even wider loop, but that's not final, yet (and designing a wider loop is not the big issue, after all).
The buffer is a strip of pine wood, measuring 10 x 4 x 3 mm. There's a groove for the loop's bearing cut in on the backside, 6 mm wide and about 0.4 mm deep. The bearing is a strip of cardboard, glued tightly around a 0.8 mm brass rod. The loop is bend from 0.5 mm brass. The coupler pin is 0.8 mm brass and the iron bandage is a strip of cardboard, for production couplers it will, of course, run around the whole buffer, and will be "attached" to the buffer beam with picturesque nuts.
Locomotives will get either a buffer with only a pin, or the usual couplerpockets with a suitable link.
Michi