I have always found speeders and home built I/C locos very intresting and for a long time had wanted a Simplex (seem compulsory for 15" estate railways) and a speeder or two.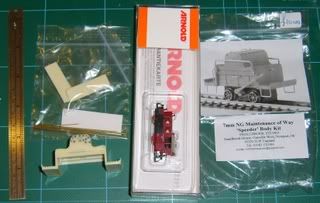 At Expo 2007 I picked up a Smallbrook Studios MOW speeder designed for 16.5mm narrow gauge, I have mounted mine on an Arnold N gauge Kof shunter. The only work to the loco body is to remove the buffers. I have added some plasticard frames and just need to add handrails, controls and some fake axle boxes.
Will keep you updated.
Simon.