AndyA wrote:If anyone has photos of a real pier or suchlike that's this narrow, I'd appreciate a pointer. If not, I'll go with the Cuddle design and try to divvy up the foreground so it doesn't show too much (hang lobster-pots on it and so on and so forth.

How about this, not a pier but a railway viaduct on the first Driving Creek which was only 10 1/4 inch gauge. the section shown is 15 ft high and to my eye is not too spindley. The main stringers were 9" x 3"
Perhaps thats the secret, to beef up the size of the both the verticle and horizontal timbers.
Or you could copy this 'minimillist' bridge.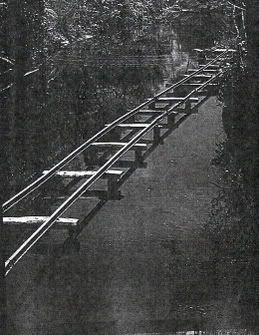 If your pier structure doesn't look right what about modelling it at high tide so only the tops of the supports are visible.