Having recently received a sample of this newly discovered product, is what prompted me to start this thread. I wanted to test it before posting it on here and having used similar products in the past, did have a bit of experience to make comparisons. I'm pleased to say this product does compare very well with others and it also has advantages.
It would have been nice to have done a direct comparison, but alas, the paints that I had previously from Modern Options and Metalcote have long ago dried up and are no longer useable. Which brings me nicely onto the main advantage I can see with this product. Unlike most other rust paints, the base coat for this one is a 2 part formula. A thick liquid which closely resembles acrylic matt medium and a fine powder which is added to it to form the rust. With this you only mix as much as you need, doing away with the problem of it drying out in the bottle. The third part of the formula is the acid rusting agent, very similar to the other makes. Here is what comes in the kit.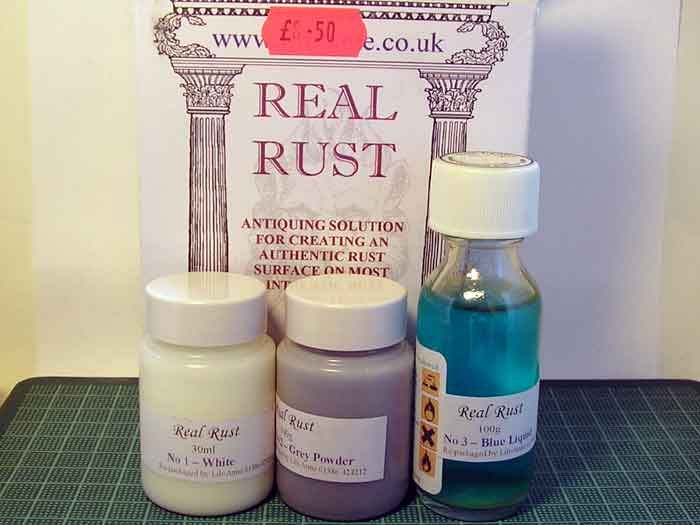 Once the 2 parts of the basecoat are mixed together, the technique is the same as the other paints of this type. A liberal coating is painted onto the piece that you want to rust, this is then allowed to dry. Once dry, the rusting agent is brushed over it and the chemical reaction starts the rusting process, the more times you apply the activator, the rustier the item becomes. Full instructions are included in the kit and there is also plenty of scope to experiment with these paints, it is surprising some of the results you can get
.
Here we have the 3 items that I used to test this paint.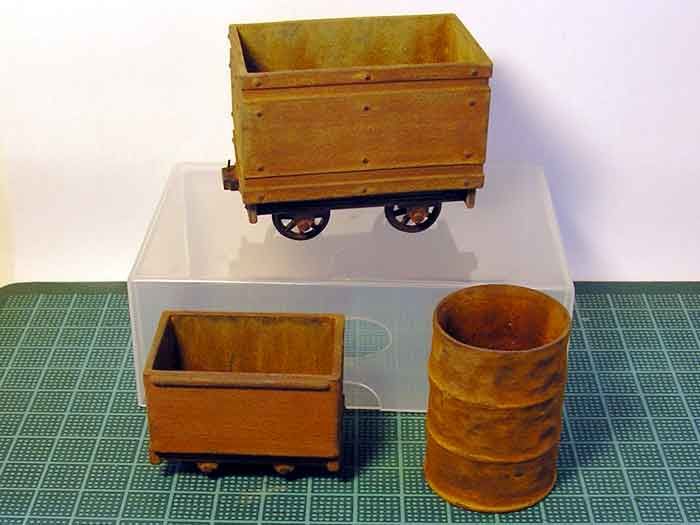 All these received a coat of matt black car spray as a base, then a single coat of the rust paint basecoat. Once dry, I applied 3 coats of the activator, allowing to dry between each one. You dont really get the full effect of the rusting for about 24 hours after applying the activator and I could probably have got away with just 1 or maybe 2 coats of the rusting agent. A bit more experimentation required, but having said that, these paints are very easy to use and anybody using them for the first time, should get good results.
Here is a closer view of one of the mine tubs, I had better confess now, the rust on the axleboxes and couplers were done with a wash of Burnt Sienna poster paint, rather than the rust paint, it is much easier to use for small details like that.