KEG wrote:HI,

Well, I see it grow, but I do not know how it is done. Do you actually glue single bricks to the cardboard?

Or do you work with techniques like this Swedish fellow, which I found at some Canadian forum:

http://www.railroad-line.com/forum/topic.asp?TOPIC_ID=23577

The building starts at page 6.

Have Fun

Juergen
Hello Juergen.............
Yes in many ways it is similar to the way the Swedish fellow is producing his buildings, it's quite an established technique I believe, and although I just started to work it out for myself as I progressed - just solving problems as they arose. I realise in hindsight that what I'm doing is nothing new [not that I thought I was] and that there is a well established history of model making in card.
I must admit if those Grandt line products were in my scale and financial capabilities it really would be so much easier!! - Joking actually, the English/British style of architecture I'm using is so specific as to necessitate a scratchbuilt methodology.
I must admit I'm determined to include a planked timber frame building though as they're so much quicker to build - and they look very evocative.
And there is nothing exotic about what I do or the materials, all very much high street items.
And "
Ian
" [btw] Same goes for the painting - just model shop acrylics [Citadel and Lifelike colours] a few artists type watercolours -felt tip pens, inks, crayons -pencils................ seriously just anything that makes the kind of mark that I'm after!! This whole modelling architecture thing is almost as alien as Narrow Gauge railroading!!! - seriously.
Anyway...... I digress. When it comes to laying bricks it really is frighteningly simple.............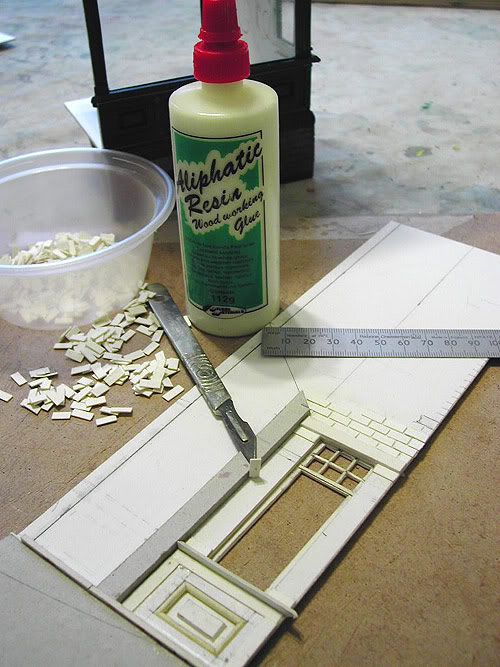 As can be seen it's just a case of methodically "building the wall" using small brick shaped card - I've always called them "chads".
What you can't see in this pic' is that I have a variety of paper and card all with different textures to them, this means I can alter the type and style of brick in order to help ring the changes depending on the type of building I'm trying to represent.
Here's a closer view.............
You can see I've offered up the front elevation of Santo's and marked where the courses of brick appear - this just to try and maintain a little integrity in trying to complete the illusion of a hard and heavy structure.
Smearing a little adhesive over about three to four courses it's jut a simple task of spearing the chads and laying them in an orderly fashion. You can get as involved as you want in rendering the "bricklaying" as authentically as you please, but a simple "common" bond serves me well.
The grey pillar to the left will be faced with brick and act as the side of the porch.
Hope this helps some?
Cheers................................. Andi.