When Steve posted this item about the Solva loco I immediately thought " Underground Ernie Inspection Car"
-
Steve Bennett wrote:
-
The idea haunted me during the Christmas jollifications. As Oscar Wilde said, the best way to be rid of temptation is to give in to it. I must be mad - I'm still working on the reconfiguring of On the Drawing Board
I finally gave in and started work on it 3 days ago. I have a few UEs sitting around doing nothing, so I grabbed one and tore the body off, picked up the razor saw, and started the butchery.
UE body as Mr Bachmann intended.
UE body after removing everything that doesn't look like the Solva critter. It's at this stage you begin to wonder if it wouldn't be easier to scratch-build - ah, but where is the challenge in that, and it is supposed to be an Ernie conversion.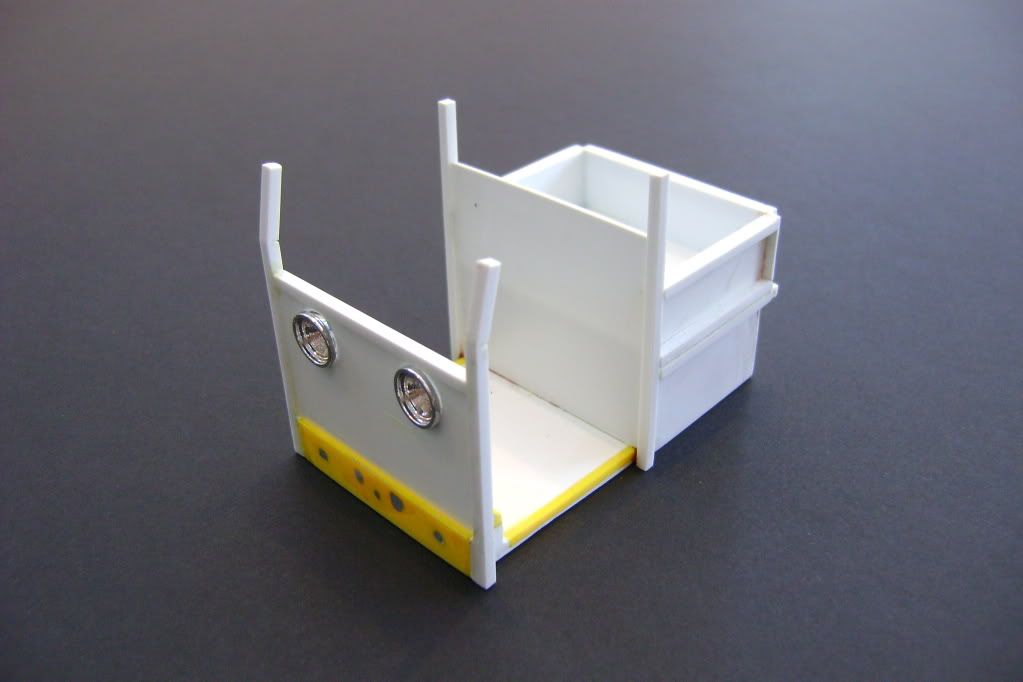 Welsh Ernie from the front. A similar view to the one Steve posted. The open wheel arch didn't seem appropriate, given the much narrower gauge, but I may put a thin semi-circle of card in place to suggest that it's been plated over.
Welsh Ernie from the back. I've reinstated the tail gate that seems to be missing in the prototype photo - you can see the fastening for it, and it doesn't seem to be hanging down.
Still lots to do, including making those curved roof supports
I also have to build a driver to fit into the cab, but I presently have one of the figures from the Italeri Truck Accessories kit under the knife, screaming.
Motive power will probably be a Bachmann Gandy Dancer - something small so I won't have to cut a large hole in the underside to fit it. The small wheels will help, as the bodywork will come down very close to the rail tops.