I started a new project this week - a 15" version of the Eimco 401 compressed air loco from the States. There is a great research resource at
http://www.narrowgaugechaos.com/RPC/Mat ... oIndex.htm
with lots of photos and a GA drawing. All I had to do was print the drawing to the scale I wanted and I was off.
There have been some 7/8ths scale models of these locos -
http://www.7-8ths.info/index.php?topic=16682042.0
and
http://www.7-8ths.info/index.php?topic=16682024.0
to give me some more ideas and clues on how to model the beast.
I'm powering the loco with the motor unit from a Bachmann inspection car - not the UE version - that Charlie was kind enough to sell to me. It has a nice low profile to fit under the tank, although the wheelbase is a bit long - 34mm where it should be 31mm.
I've started by making the chassis from 1mm plasticard. It's basically 3 boxes, the ones at each end open at the top and the middle one open at the bottom, where the motor unit fits.
A side view of progress so far. On the prototype the bolt heads around the axleboxes are countersunk but I've decided that the 15" version had them sticking out - life is hard enough as it is, without trying to sink holes that close to the edges of the cut-outs in the frames.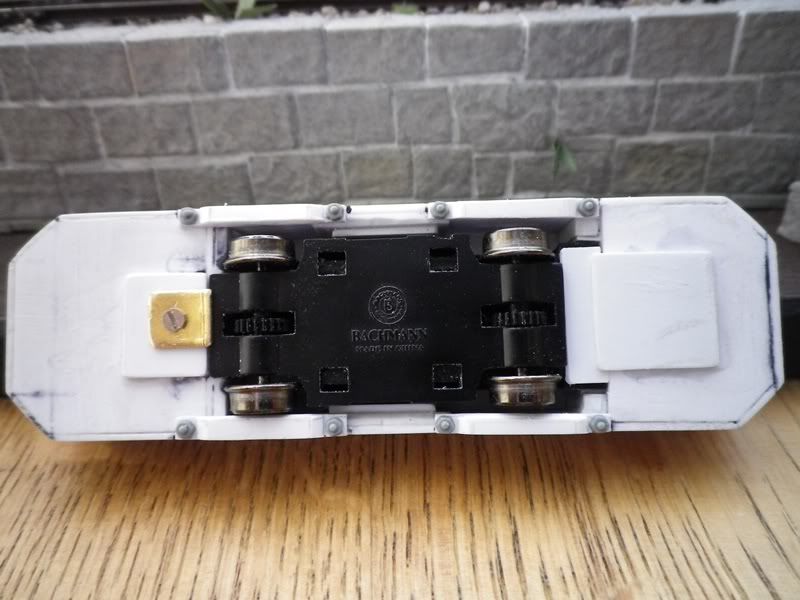 A view of the underside, showing how the Bachmann motor unit fits in and is held in position - the right hand end of the unit is built up level with the underside and fits under a little ledge, while the front is held down by the little brass square.
The angled ends to the chassis were a bit fiddly - I had thought I could scribe and bend them, and then glue them to the underneath pieces, but that wasn't too successful, so I built the ends up piece by piece - with all the inaccuracies that produces. The axleboxes are more of those irritating tiny bits of plasticard and rod that disappear as soon as you look away.
I have some PVC pipe that is just about the right diameter for the air tank, so I shall cut a bit to length and start building up the ends from decreasing circles of 2mm plasticard. Just a matter then of sanding them to shape
I also have to make up some sort of air engine to fit into the rear compartment - there are good photos on the 7/8ths site to work from.
Hours of fun