I went to the model shop today to buy a Bachmann Cable Car for the power bogie so I can copy Chris Krupa's little sit-on engineering department speeder as seen on Mathews Corner but they had sold the last one
Desperate to make something I looked around in a panic
then I spotted a Bachmann HO Maintenance of Way 1950's 4x4 Highrailer, item 46207 . It is one of those things I'd never even looked at before
. A quick check of the parts list showed that it was two axle drive and the body and hirail wheels looked simple to remove. "I'll have it" I quickly replied.
Arriving home I placed it on the track, applied power and off it went smooth as. The only picture that will show it with Jeep body in place.
The plastic body is easilly clipped of with a fingernail and the hirail axles only need to be pushed back under the body against a pivot point and they click off. The picture shows a comparison with San Fan cable car power bogie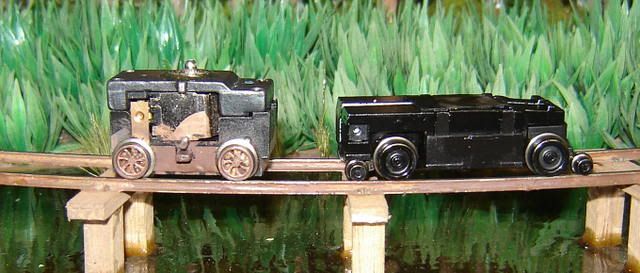 The wheel base is 31 mm, wheel diameter 8.1 mm and 14.5 mm rail top to body top. The body width is 20.5 mm. The thing I really like is the wheels are nice and chunky at 3.3 mm wide well more than those on a Spud.
It has lots of potential for Gn15. Now what to make