As my quest to improve my architectural modelling abilities continues, I suppose the search for a way to represent stonework has become a little like hunting for the holy grail. I have attempted the scribing into a layer of DAS modelling clay and this method, just doesn't work for me. I came across a product at the weekend which has distinct possibilities and couldnt wait to give it a try. Last night I knocked up the shell of a small hut (4 1/2" by 2 1/2") from some thin card (the backing sheet from a pad of paper) and got stuck in. This is the result so far: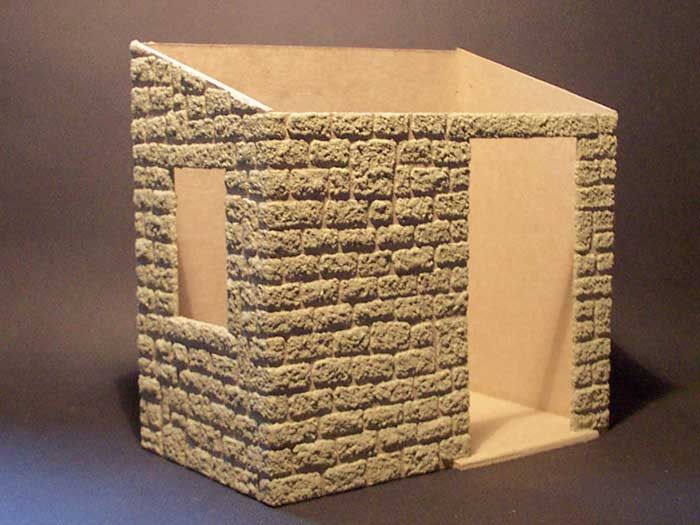 The product, is a textured paint from scenic specialists Green Scene (sorry, those outside the UK are unlikely to have heard of them). The paint is really thick, similar in consistancy to white glue and has very fine sand(?) particles suspended in it. Once dry, which takes about 15 to 20 minutes, this stuff is rock hard, but can be cut with difficulty with a knife.
Surprisingly, it also sticks to styrene and is almost impossible to remove from it when dry. It is water based and can be thinned down, which will be worth experimenting with later. I applied this paint in a similar way to my previous experiments with cobbles, with the pointed end of a toothpic and unlike using white glue, this paint doesn't appear to shrink as it dries.
Also by applying more than one layer, quite a thickness can be built up. I only applied one layer and in places this is up to 1mm thick. Once dry, it will accept washes of water based paints very nicely, not quite as porous as plaster. I did try a quick test with a couple of washes of very thin poster paint which you can see in front of the pot in the pic below: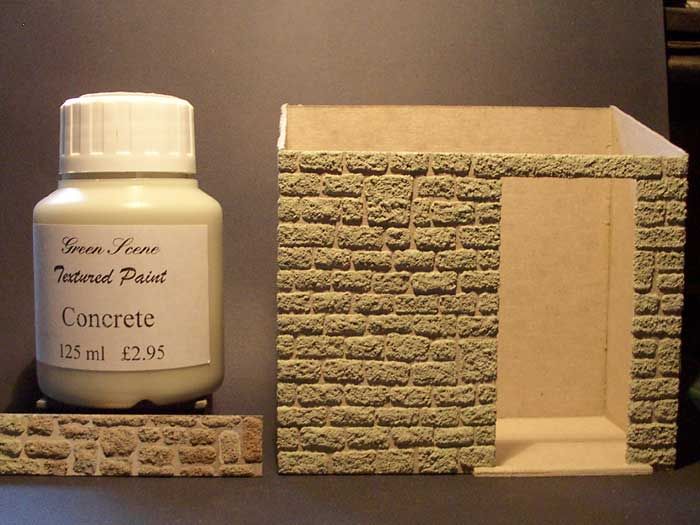 To get in really close (160kb) try this:
http://i18.photobucket.com/albums/b120/stephenbennett/2005-10-11010lge.jpg
To cover the two walls shown, took about two hours, not quick, but I think with more practice it will get quicker and for me at least, it is a lot quicker than using the DAS method. More on this as I progress further with it.