Well, after several weeks wrestling with my new lap-top and Windows 7 I've reached an accommodation with the OS - I am allowed to feel that I have it sorted most of the time, and the OS is able occasionally to demonstrate that I haven't.
After the hiatus I thought I would practice my "cutting plasticard into small pieces and sticking them together into odd shapes" skills. The object of the exercise was to produce a flat wagon that would be able to carry an unspecified load at some unspecified time in the future. The starting point was a packet of Plastruct 3/16" U channel section, plus bits from the scrap box.
I tried to keep it simple, and cut side members and end beams to match the dimensions of my skip chassis, and glued them together channel side outwards. My first attempt was a disaster, but by taking a bit of care and erecting the frame on a sheet of glass a step at a time, a usable item was produced. Corner brackets, couplers and cross-members were added from bits hanging around.
For axle-boxes I thought I'd make some more of my ersatz Hudson items, as used on my skips
http://forum.gn15.info/viewtopic.php?t= ... sc&start=0
After a frantic search to find the remnants of the square section rod with a hole through I discovered that I had just enough to make 3 sets of axle-boxes on a production line basis. I then discovered that I only had 7 of the PTFE pinpoint bearings, but found some brass top-hat bearings in the back of the garage, which work just as well.
The frame and axle-boxes - the ones with brass bearings will be used on some future project - if I can find them again.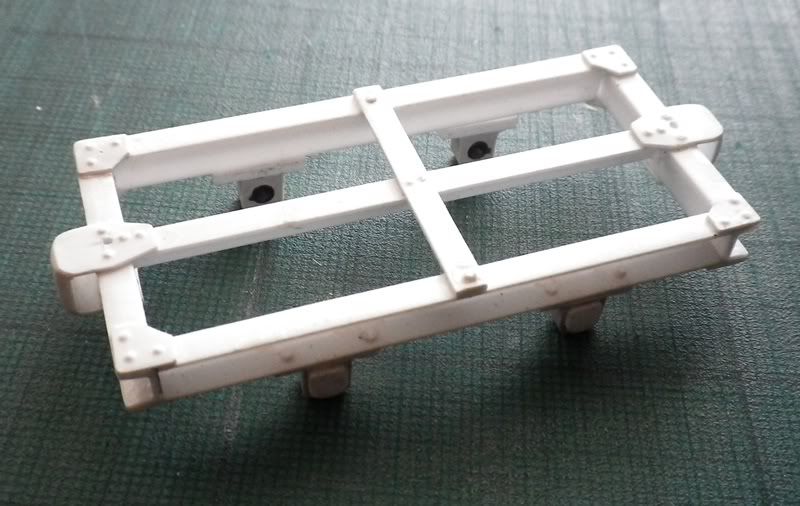 The frame garnished with rivets and bolt heads to taste.
Frame sprayed black and with some subtle (for me) weathering. I thought it would be nice to have a 'nearly-new' look, rather than my usual, 'dragged up after 20 years on the sea-bed' weathering.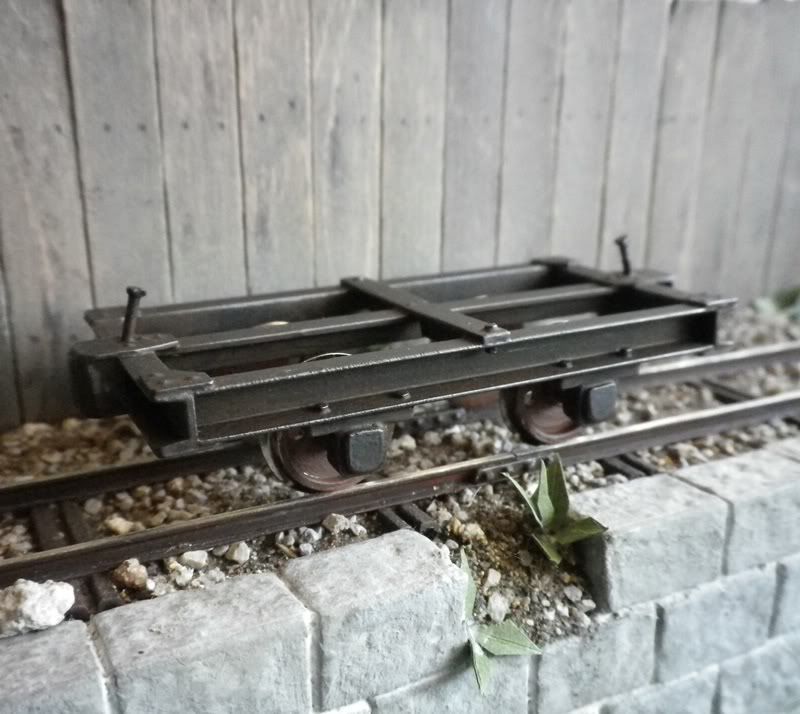 The finished item on its wheels.